Albert Low
"To wake up, to see for oneself that 'one' is whole and complete, to know the truth for oneself without need for any intermediate thought or reason, that 'one' is beyond all form, that 'one' is in truth the light of the world, is sudden, and it transforms one's whole life. One will never be the same."
(To Know Oneself, Talks, Stories and Articles on Zen, Charles E. Tuttle Co. p. 132.)
Albert Low was the Teacher and Director of the Montreal Zen Centre until his death in January 2016, at the age of 87. The activities of the Centre are being continued in the respect and continuity of his teaching.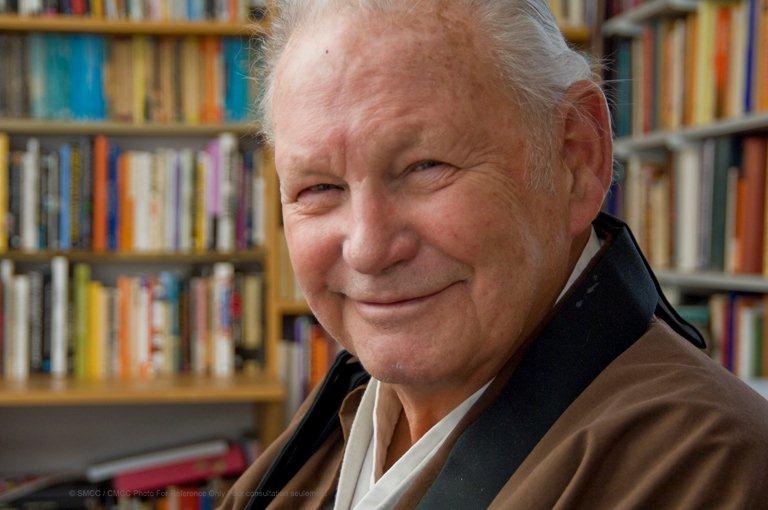 Albert Low was born in London, England, in 1928. In 1954, newly married, he emigrated to South Africa where he will remain for nine years. During his stay there, he obtained a university diploma in psychology and philosophy and undertook a business career as a professional in personnel resources. With his wife, Jean Austin, they had three children.
In 1963, unable to tolerate the political situation at that time (apartheid), he chose to emigrate to Canada where he arrived, unemployed, with his wife and three children. Two weeks after his arrival, he was named personnel executive in a large corporation in Ontario where he will remain until 1976. During this time and in addition to his professional occupations, he developed an original approach to creativity, work and business organization and management. He lectured extensively on these subjects and started writing. He published many of his findings and reflections in 1976 in a book entitled Zen and Creative Management.
In 1961, he discovered Hubert Benoit, the author of The Supreme Doctrine. Reading this work, he was immediately taken by the direction proposed by Benoit: " I knew there and then that this was the way I was looking for ". From that moment on, he began to meditate, but he will have to wait another five years before meeting a Zen master.
In 1966, at the age of 38, he met the Japanese master Haku'un Yasutani who happened to be traveling in Canada at that time: this meeting was decisive. Under the guidance of this teacher, he undertook a serious practice. His wife Jean who had accompanied him all his life in his spiritual pursuits, also undertook this practice.
From then on, the practice of Zen occupied the centre of his existence. He devoted most of his free time to meditation, to the study of Zen Buddhism and to writing. Following Yasutami's return to Japan, it is with Philip Kapleau, the founder of the Rochester Zen Centre, that he will practice for twenty years.
In 1976, after having experienced a deep breakthrough, he retired from corporate life. He and his wife, Jean, sold their house and belongings in order to be able to go to Rochester to devote full time to the practice and dissemination of Zen. In 1979 Albert Low was asked by Philip Kapleau to assume the direction of the recently established Montreal Zen Centre.
He accepted the challenge with passion. He completed his formal training in 1986, and at that time received full transmission as a Zen teacher. The Montreal Centre became autonomous at that time and experienced significant growth. A new life began for him, entirely dedicated to the teaching of Zen and to writing, a direct extension of his teaching.
The Montreal Zen Center being a fully lay community, the presence of a man such as Albert Low as teacher and director, was invaluable. Having worked in the business world and had a family life while at the same time carrying on his Zen practice, Albert Low was able to understand and relate to the trials and tribulations that a lay person has when practicing Zen while supporting a family.
On May 30, 2003, Albert Low received an honorary Doctor of Laws (LLD) from Queen's University in Kingston, Ontario based on his unique contribution to scholarship, teaching and community service. He was an authentic thinker and a prolific writer having authored eighteen publications, many of which have been translated into French, German, Spanish, Portuguese and Turkish.